Spinach and Avocado Green Smoothie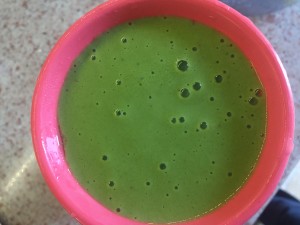 In the summer, I always make my son and I a green smoothie for when he gets home from school.  It's a great way to ensure he gets some good green veggies and he loves them!
This smoothie contains about 350 calories and can be a great lunch alternative if you add some Hemp protein powder to it, which will bump up the calorie count by just over 100 calories (I get Hemp Vanilla Protein powder at Trader Jo's), but ensure you are getting a good nutritious lunch.  It's so easy to make if you have the ingredients on hand.  Make sure you have a good blender that will crush ice – I use a Vitamix but there are others out there that will work just as well.
1/4 medium avocado
1 banana
2 cups raw baby organic spinach
1/2 cup whole milk organic vanilla yogurt (I use Trader Jo's)
1/2 cup soy milk (again I use Trader Jo's unsweetened)
2/3 cup ice
Simply put all the ingredients into a blender and blend until smooth.  Enjoy!