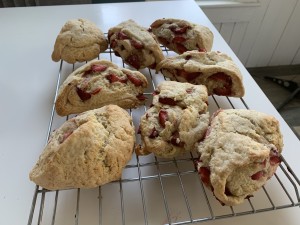 These delicious treats come in at 330 calories per scone, assuming you use full fat sour cream and milk.  In England we enjoy one with a nice cup of tea. You can make smaller versions if you are making them for a family gathering.
Ingredients:
2 Cups Flour
2 tsp baking baking powder
1/2 tsp baking soda
Zest of one lemon
1 stick of butter plus 2 tablespoons to brush on scones before baking
1/3 cup sugar
1/2 cup sour cream
1/2 cup milk
1/4 cup sugar for sprinkling
1 cup berries of your choice
Pre-heat oven to 350 degrees.  Put flour, baking powder, baking soda, sugar, Lemon zest and refrigerated butter (1 stick) into a food processor and pulse until consistency of fine breadcrumbs.  Add sour cream and milk and process until combined into a dough.
Roll dough out to a rectangle and fold into 3.  Roll back out into a rectangle, sprinkle berries evenly over dough. Roll up jelly roll style rolling up along the short end so the roll is thick.  Flatten roll slightly, cut into 4 equal parts.  Press each quarter down slightly and cut each one crosswise into two so the scones are triangular.  Place on a greased baking sheet.  Brush each scone with melted butter and sprinkle with sugar (This step is optional) Bake at 350 for 24 minutes – turning baking pan around half way through the cooking time.  Cool on cooling rack and serve alone or with whipped cream and extra berries.  Remember the whipped cream will add at least 100 calories to your dessert.