Home Made Whole Wheat Bread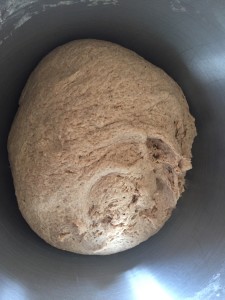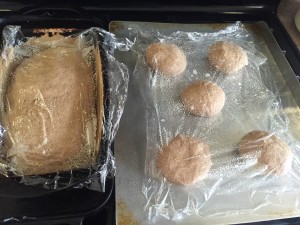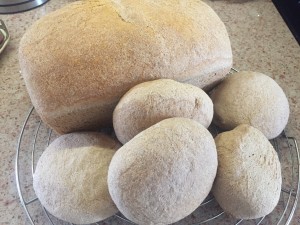 There is nothing like home made bread!  Packaged store bought breads generally contain a myriad of additives and preservatives.  Making your own bread ensures you know what you are eating.  Because it contains no additives or preservatives, I usually slice it and freeze it to keep it fresh.  Without freezing, and left at room temperature it will last 2-3 days.
This recipe makes 1 large loaf (I use a Pampered chef stone bread pan) and 5-6 medium sized rolls.
6 cups organic whole wheat flour
1 tablespoon sea salt
2 tablespoons dried yeast
3 cups hand hot water
If you have a mixer with the bread hook, that works best.  Otherwise you can knead by hand.  Mix dry ingredients then add water.  If using a mixer put it on medium speed and knead 10 minutes.  Make sure dough is moist, you can add a little more water if necessary… Dry dough will not rise well and makes the bread overly dense.
Once kneaded put into greased bread pan and shape 5-6 rolls and put on greased baking sheet.  Cover with greased cling wrap and put in a warm place for 30-45 minutes until doubled in size.  Once risen carefully remove cling wrap and put into pre heated 400 F oven.  The rolls will be done in 11 minutes.  The bread will take about 35 minutes for a large loaf and 25-30 minutes for a smaller loaf.
Remove from pans and transfer to cooling rack.