Chocolate Drizzled Coconut Macaroons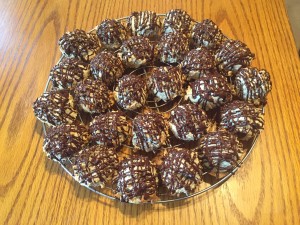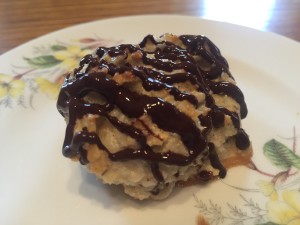 These little macaroons make a lovely treat to have with a cup of tea or coffee.  They are small and satisfying at under 200 calories per macaroon!  Bake a batch, put them in the freezer and eat them slowly when you really need something sweet.  Using all organic ingredients at least means these treats are as healthy as treats can be.  Everything in moderation, eat only one at a time!
12 oz organic unsweetened coconut
1 14oz can of organic sweetened condensed milk
1 cup almond meal
2 egg whites beaten to stiff peaks
1 teaspoon pure vanilla extract
1 teaspoon pure almond extract
1/3 cup geridelli dark chocolate chips
Put coconut and almond meal in a bowl.  Add sweetened condensed milk and extracts.  Beat egg whites and fold into coconut mixture.
Scoop onto greased baking sheet into 1″ mounds.  Bake 15-20 minutes at 325 F or until light golden brown.  Once baked immediately lift off baking sheets onto cooling rack.  Melt chocolate chips in microwave or over double boiler, and drizzle over macaroons.
This recipe makes about 26 macaroons, and each one is about 180 calories.