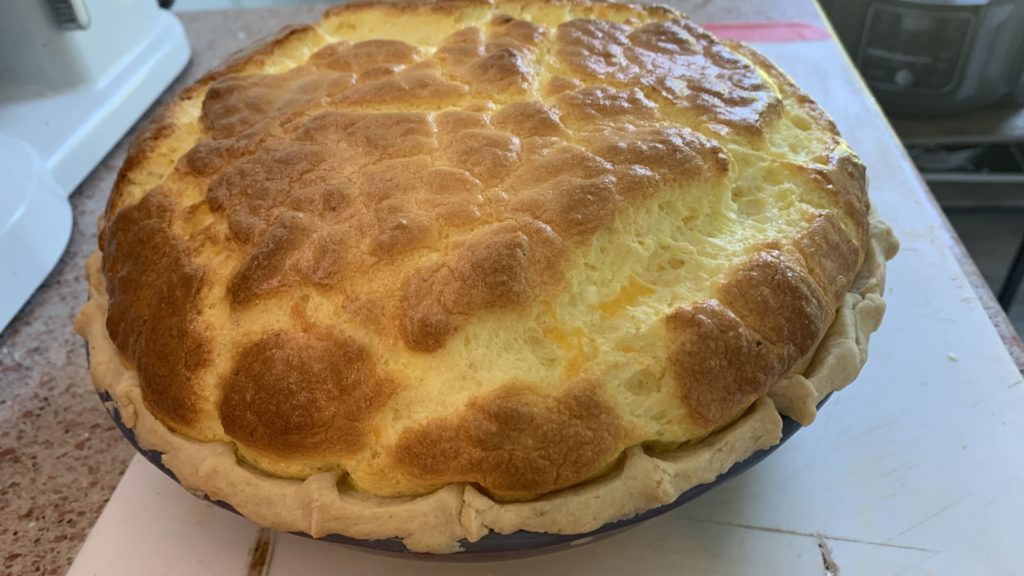 This delicious dish is suitable to serve for breakfast, lunch or dinner. It can be made with or without a crust, and you can add your favorite veggies and/or meat. I will give the recipe for the crust, and some options for fillings.
Begin by pre-heating the oven to 375F.
Crust:
Crust:
1 cup flour
1/3 cup butter
1 tsp salt
1/4 cup ice water
Mix together flour, salt and butter in food processor until resembles fine breadcrumbs. Add water until a dough forms. Roll out and put into a pie dish. Prepare filling.
Filling:
6 eggs separated
1/4 cup sour cream
1 1/2 tsp salt
1/4 tsp black pepper
1 cup grated cheddar cheese
1 tablespoon butter
1 medium onion chopped
4 medium mushrooms chopped
1/2 bell pepper chopped
1 clove garlic (optional)
1/2 cup peas (optional)
1/2 cup sweet corn (optional)
All of the vegetables can be traded out or removed. The crust is totally optional. If you have prepared the crust you will set it aside while you prepare the filling and then pour the filling into the crust before baking.
Melt butter in a skillet over medium heat, and add chopped onion, 1 tsp of salt, 1/4 tsp of black pepper and garlic. Sauté for 5 minutes then add the rest of the chopped veg and continue cooking until soft – about 5-8 minutes. Remove from heat and set aside to prepare the egg mixture.
Separate the 6 eggs into two bowls. To the yokes add 1/4 tsp salt, the sour cream and grated cheese and combine until smooth. To whites add 1/4 tsp salt and whip until stiff. Gently fold the yoke mixture into the whites until fully combined and then gently fold in the sautéed vegetables. You can also add cubes of meat to this or crumbled bacon and fold in with the vegetables.
Pour the egg mixture into the crust if using a crust, or into the pie dish if not. Place in pre-heated oven and bake 25-30 minutes until golden and well risen. Serve immediately.
Calories without crust are: 1400 calories.
Add 1/2 cup chopped meat: 1600 calories.
Add crust and you add 1000 calories
Quiche per serving (serves 8) 300 calories (325 with meat)
Souffle per serving (serves 8) 200 calories. (225 with meat)