13 Weekly Fitness Classes July/August
Most weekly classes offered both in person and on Zoom. Currently Tuesday pm Barre, Thursday Zumba gold and Friday am Strong are only on Zoom.
Monday: 8am Zumba
Monday: 5:30pm Zumba
Tuesday: 8am Strong – Interval training class
Tuesday: 9am Tabata with an optional stability ball (BYO)
Tuesday: 5:15pm Barre with Pilates (Zoom)
Wednesday: 8am Zumba(also in person) 9am Stretch. 10am Pilates
Thursday: 8am Barre with Pilates 9:00am Zumba Gold (Zoom)
Thursday: 5:30pm Zumba
Thursday. 6:20pm Stretch
Friday: 8am Strong – Interval training class (Zoom)
Saturday: 8am Zumba
Costs for Zoom classes:
One weekly class for 9 weeks $90
Two weekly classes – 18 classes $170
Three weekly classes – 27 classes $250
Unlimited weekly classes $280
For
Zoom only

classes email me for a Paypal link (ninimyers@gmail.com), send me a personal check, or you can Venmo me @Janine-Myers-5.

Costs for In Person Classes:
Monday 8am or 5:30pm Zumba – 9 weeks – $90
Tuesday 8am Strong 9am Ball Tabata or 5:15pm Barre – $90
Wednesday 8am Zumba or 9am Stretch – $80
Thursday 8am Barre 9am Zumba Gold, 5:30 Zumba or 6:20 Stretch – $90
Friday 8am Strong – $90
Saturday 8am Zumba (8 weeks) – $90
For three weekly classes, pay full price for first two and get third and least expensive half price. Unlimited classes for July and August $280
For in person July/August classes at the Pepperell Community Center, please sign up through the Town of Pepperell recreation website. Any classes with less than 3 signed up participants may not run.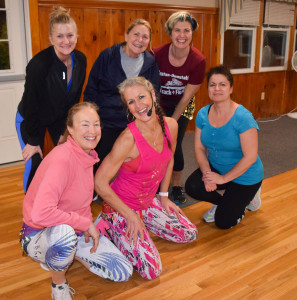 Classes are $10/class if you sign up for the session or $12 to pay as you go. You may now drop into the Community Center classes anytime. Masks are no longer required.
Click: Log in if you already have an account
Click: Account > create account
Choose the Program Icon or the Register tab at top of the page
Choose the classes you are taking please choose the least expensive class last for the proper discount
Once you are done choosing your classes, go to check out, you can pay on line or click send or bring in a check.
If you have questions regarding the website sign up please contact Katie at recreation@town.pepperell.ma.us

Class Descriptions:
Stability Ball Strength/Core/Balance – Tuesday (now combined with Tabata style workout)
Participants will bring their own ball to class. In this class you will gain postural awareness while strengthening your core, improving your balance and sculpting your muscles with fun and challenging exercise centering around the stability ball. You should have a ball on which you can sit comfortably with your legs at a 90 degree angle. Balls should be adequately inflated.
Tabata – Tuesday
Tabata works in 20 second intervals with 10 second breaks for 4 minutes per exercise. This class works the whole body strengthening and tightening by working each muscle group thoroughly.
Zumba/Tone – Monday / Wednesday / Thursday / Saturday
Join us for the Latin-inspired, easy-to-follow, calorie-burning, dance fitness-party. Feel the music and let loose for this 45 minute class. Zumba Toning takes regular Zumba to a new level as it incorporates light weight, maraca-like toning sticks to enhance your workout and tone your body.
Strong by Zumba – Tuesday /Friday
Stop counting the reps. Start training to the beat. STRONG by Zumba® combines body weight, muscle conditioning, cardio and plyometric training moves synced to original music that has been specifically designed to match every single move. Every squat, every lunge, every burpee is driven by the music, helping you make it to that last rep, and maybe even five more.
In a one-hour class you will burn calories while toning arms, legs, abs and glutes. Plyometric or explosive moves like high knees, burpees, and jumping jacks are interchanged with isometric moves like lunges, squats, and kickboxing. STRONG by Zumba® instructors change up the music and moves frequently to make sure you're always challenged to the max
Barre w/Pilates – Tuesday PM / Thursday AM
This class combines work at the Barre with Pilates mat work. It will focus on the glutes and hamstrings as well as strengthening the core to sculpt a long lean body and a tight tush.
Pilates – Groton Wednesdays
The routine will lengthen and tone your muscles, improve strength, flexibility, balance and stamina. It will develop your body as it shapes and tones each muscle
Stretch – Monday PM /Tuesday AM / Wednesday AM / Thursday PM
Stretch description: this class will gently stretch your body from head to toe. Set to relaxing music, the goal is to increase flexibility and leave your body feeling rejuvenated.