15 Weekly Fitness Classes
*2019 April-June Schedule*
My recently added Stretch class will be a full 45 minutes of just stretching, from your head to your toes.  Come and enjoy the relaxing music while decreasing your stress levels and increasing your overall strength and flexibility.   Stretch classes will be held on the following days and times:  Monday 5:50pm. Tuesday 9am.  Wednesday 9am. Thursday 5:50pm.  See full winter schedule below.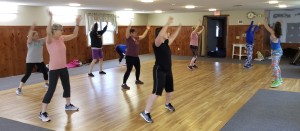 The Pepperell Community Center, 4 Hollis St, Pepperell, Ma  Located right at the rotary

April-June 2019 Class Schedule
Monday 8:00am Zumba/Tone
Monday 5:00pm Zumba/Tone
Monday 5:50pm STRETCH 
Tuesday 8:00am Strong by Zumba*
Tuesday 9am Stretch*
(Tuesday 5:00pm  Strong by Zumba – Not running this session)
Tuesday 6:00pm  Barre with Pilates
Wednesday 8am Zumba/tone
Wednesday 9am STRETCH 
Thursday 8am Barre with Pilates
(Thursday 10:15am Zumba Gold –
*PEPPERELL SENIOR CENTER*)
Thursday 5:00pm Zumba/Tone
Thursday 5:50pm STRETCH 
Friday 8am Strong by Zumba
Friday 5:15pm Pilates 
Saturday 8am Zumba/Tone
*No am class first Tuesday of every month

UNLIMITED CLASSES FOR THE PRICE OF JUST 4 A WEEK!!!
Class Descriptions:
Zumba/Tone – Monday / Wednesday / Thursday / Saturday
Join us for the Latin-inspired, easy-to-follow, calorie-burning, dance fitness-party. Feel the music and let loose for this 45 minute class. Zumba Toning takes regular Zumba to a new level as it incorporates light weight, maraca-like toning sticks to enhance your workout and tone your body.
Strong by Zumba – Tuesday /Friday
Stop counting the reps. Start training to the beat. STRONG by Zumba® combines body weight, muscle conditioning, cardio and plyometric training moves synced to original music that has been specifically designed to match every single move. Every squat, every lunge, every burpee is driven by the music, helping you make it to that last rep, and maybe even five more.
In a one-hour class you will burn calories while toning arms, legs, abs and glutes. Plyometric or explosive moves like high knees, burpees, and jumping jacks are interchanged with isometric moves like lunges, squats, and kickboxing. STRONGby Zumba® instructors change up the music and moves frequently to make sure you're always challenged to the max
Barre w/Pilates – Tuesday PM / Thursday AM
This class combines work at the Barre with Pilates mat work. It will focus on the glutes and hamstrings as well as strengthening the core to sculpt a long lean body and a tight tush.
Pilates –Friday PM
The routine will lengthen and tone your muscles, improve strength, flexibility, balance and stamina. It will develop your body as it shapes and tones each muscle
Stretch – Monday PM /Tuesday AM / Wednesday AM / Thursday PM
Stretch description: this class will gently stretch your body from head to toe. Set to relaxing music, the goal is to increase flexibility and leave your body feeling rejuvenated.
Printable Registration form:
 Downloadable Spring Registration form
Sessions run Jan-Mar,  April-June,  July-August,  Sep-Oct,  Nov-Dec
Sign up for 4 weekly classes and get UNLIMITED weekly classes for the session!
Discounts apply if you sign up for the full session for more than one weekly class
Sign up is usually at the start of the session, but can be done mid session, however the multi class discount only applies when you sign up for a full session.
Walk-ins always welcome.  Walk in fee for all classes is $10.
You can sign up at your first class, or on-line by going to: