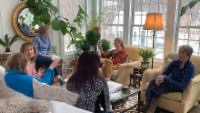 Coming this fall:
Commit to F.I.T (Follow It Together)
Brought to you exclusively by JanineTheMachine Fitness
Cost for the 8 week session per person $600
Do you have some lifestyle changes you would like to make?
Perhaps you need some help getting started?
Would you enjoy being cheered on and encouraged by a group of your peers each week?
Maybe you have questions on fitness and nutrition?
Do you enjoy learning new recipes and cooking techniques?
How does a weekly lunch sound?
If you answered yes to any of these questions, this could be exactly what you need to get started.
Included in your 8 week program:
Workbook
Weekly workout
Weekly cooking class
Weekly healthy lunch
Weekly lesson/discussion
Mid-week check in
We will meet once a week between 11am and 2pm.
11-11:45 Workout – a different format each week
11:45-12:30. Cooking class
12:30-1pm. Lunch
1-2pm. Nutrition lesson/discussion
We will have a maximum of 4 people in each class. In the small group setting participants will feel encouraged and supported as we take this journey together. Whether you have a specific set of goals, or just want to learn more about how to live a healthier lifestyle, this class is for you. A few of the topics we will cover: Nutrition 101, Goal setting, How to overcome obstacles, Food labels broken down, Grocery shopping strategies, healthy recipes, fad diets, supplements and more.
Email jmfitness@janinethemachine.net if you are interested in being part of one of the first classes. Space is limited. The class will run 11am-2pm weekly.