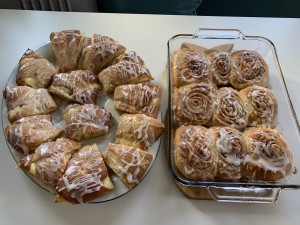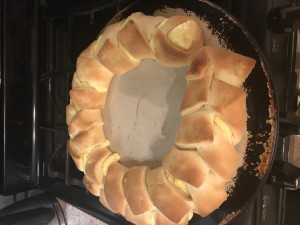 Makes 2 cheese danish rings, or as pictured one danish and one batch cinnamon buns.
Ingredients: Danish dough
4-4.5 cups flour
1 cup milk (I use whole but you can substitute 2% or skim)
1 stick butter
1/2 cup sugar (can use more or less to your taste)
1.5 tbs dried yeast
1/2 teaspoon salt
1 egg
Filling for 1 danish (can use less cream cheese if preferred):
2 x 8oz packages cream cheese
2 egg yolks
1/2 cup confectioners sugar
rind of one lemon
Cinnamon bun filling abd construction:
sugar, cinnamon and raisins and nuts optional
melted butter
The amounts for the cinnamon buns are up to your taste.  If you are trying to keep the fat/calorie content down you may prefer to use less butter and cinnamon sugar.  Nuts and fruits will add more nutrition but also more calories.
Dough:
Add 4 cups flour, 1.5 tablespoons dried yeast, 1/2 cup sugar and 1/2 tsp of salt to a stand mixer.  Mix.  Add to the dry ingredients 1 egg, 1 cup milk warmed to hand hot and 1 stick melted butter.  Using dough hook mix until mixture forms a soft dough, continue to knead 5-10 mins.
I usually skip the next step but you can decide.  Technically dough should be put in a warm place to rise for about 1 hour – covered with a greased piece of cling wrap.  I usually jump right to making the danish and it comes out great, but the additional rise may add some lightness to your finished product.
Prepare cheese filling:  mix cream cheese with egg yolks, confectioners sugar and lemon peel until smooth.
Roll dough out into a long 30-40″ x 6-8″ wide strip.  Cut diagonally on both sides as shown below and spread cream cheese mixture down the center.  Fold strips over alternately to make braid.   If you are making cinnamon buns you will reserve half of the dough for those, and make only one danish ring.  Bake in a 350 oven for 20 minutes or until dark golden brown.  Cool and ice with a mixture of confectioners sugar and lemon juice.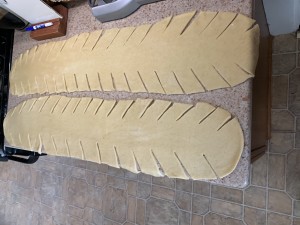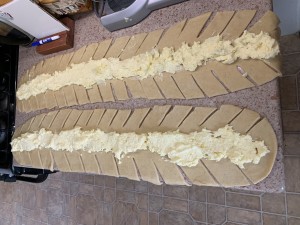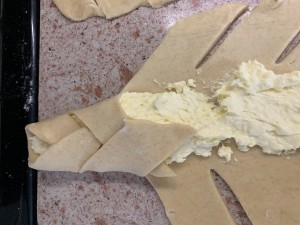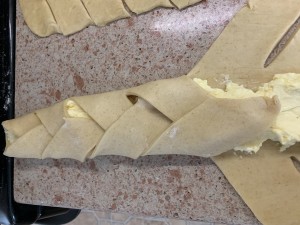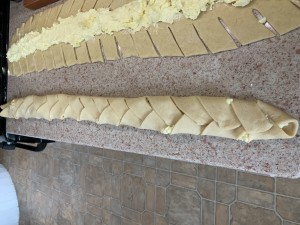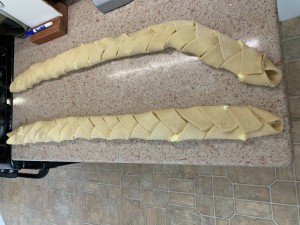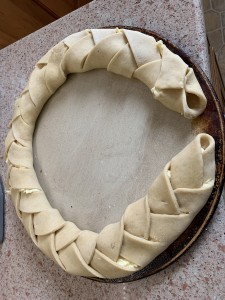 Cinnamon bun construction:
You are going to roll half of your dough out into a rectangle, brush with melted butter, sprinkle generously with cinnamon and sugar and add nuts and fruit if you prefer.  Roll up from the small end of the rectangle and cut into rounds.  I made 9 buns.  Place in a brownie pan separated, and cover with greased cling wrap in a warm place until risen.  Bake at 350 for 15-20 minutes.  If you like to ice, use a mixture of confectioners sugar and water.
Cheese danish when made as directed above, and cut into 14 slices are 258 Calories.  Cinnamon buns divided into 9 are the same (258 each)  if 1/2 cup sugar is used for filling, 1/4 cup butter and no fruit or nuts.  Icing lightly 1/2 cup confectioners sugar.