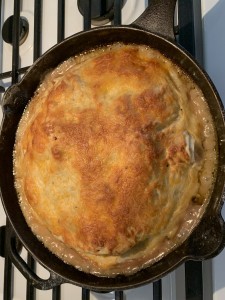 Ingredients:
Home made Tortilla Recipe:
1 cups flour
1/4 tsp baking powder
1/2 tsp salt
1/4 cup oil
3/4 cup warm water
To make tortillas mix flour, baking powder and salt and then add the oil and water and mix into a soft dough.  Knead on the counter for a couple of minutes using some extra flour, then cover in plastic wrap and let rest for 10 minutes.  Heat a cast iron skillet for 5-10 minutes.  Divide dough into 4, and roll out to large think circle.  Put on skillet until you see bubbles – should be 30 seconds-1 minute a side.  Then place on cooling rack while you continue to cook the other three.  Set aside.
Filling:
3 large cooked chicken breasts cubed or shredded
1 cup shredded cheese
1 large onion
1 can black beans
1 large onion sautéed in 2 tablespoons oil
Sauce:
2 cups chicken broth
2 tablespoons better than bullion chicken
1/3 cup flour
1 cup sour cream or heavy cream
Red chilli pepper flakes
To make the sauce heat the chicken broth with red chili flakes and bullion mixed in.  In another bowl mix 1/3 cup flour with cream or sour cream until smooth and gradually add chicken broth.  Once combined heat to thicken.
To assemble casserole place one tortilla in the bottom of the cast iron skillet, cover with shredded chicken, 1/3 of sautéed onion, 1/3 can of black beans, and sprinkle with 1/4 cup grated Mexican cheese.  Drizzle a little sauce over the top.  Place second tortilla on the top and repeat the process twice more.  Top with remaining sauce (which should be quite a bit), and generously with shredded cheese.
Bake at 375 degrees F for 20 minutes.  Cut into wedges and serve with sliced avocado and salsa.