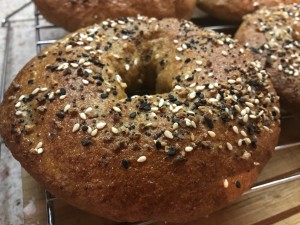 3 cups whole wheat flour
1 Tablespoon yeast
1/2 tablespoon of salt
1.5-2 cups hand hot water
Trader Jo's 'Everything but the bagel' seed topping
Beaten egg or egg white
If you have a mixer then add the flour, yeast and salt to the bowl and mix.  Add water until a dough forms.  Use the dough hook or knead by hand until dough is smooth and stretchy.
I don't usually rise the dough twice but you can leave the dough in the bowl, cover with greased cling wrap and let it double in size.  Punch the dough down and split into 10-12 equal balls.  Use your thumb to make a hole in the middle and shape bagels.  Place on a well floured board or baking sheet and cover with greased cling wrap.  Let rise until almost doubled in size.
Meanwhile boil a pot of water with a little honey and baking soda (optional)  Once pot is boiling reduce heat to a simmer, and slide one or two bagels into boiling water being careful not to break the rise.
Boil bagels for 1 minute on each side turning over carefully with a spatula.  Carefully lift out of the water shaking off excess water.  Put on greased baking sheet, brush with beaten egg, and top with 'Everything but the bagel' topping.  Alternately you can top with rock salt, sesame seeds, poppy seeds or seed of your choice.  Bake in a pre heated 450 degree oven for 15-20 minutes.
If you make 10 bagel, each bagel is approximately 120 calories.  If you make slightly larger bagels and only make 8 then they are 153 per bagel.  Smaller bagels have 34g carbs and 6.4g protein.  Larger have 43g carb and 8g protein.  This makes a great breakfast with almond butter and a banana sliced on top.
Enjoy!