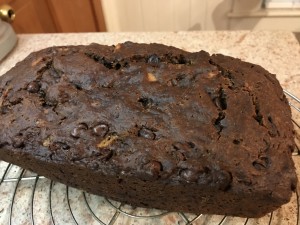 This is truly a delicious bread that can be souped up to make a great dessert by the addition of whipped cream or if you are going lower fat, add a dollop of vanilla greek yogurt.  It's simple, fairly low fat, and you can decide how much sugar to add depending on your taste and dietary concerns.  The walnuts and chocolate chips are optional and how many you put it is also fairly fluid.
You can also swap out your fruits depending on what you have available.  Canned pumpkin is hard to come by unless it's Thanksgiving time, so you can use mashed banana as an alternate.
Ingredients:
1/2 cup coconut oil – melted
1 cup pumpkin puree (can be substituted for banana or just extra apple sauce)
1/2 cup apple sauce (I used my home made chunky but any will work)
1/2 cup cocoa powder
1 1/2 cups flour
1 1/2 teaspoons baking soda
1/2 teaspoon salt
2 eggs
2/3 cup sugar (you can use more or less depending on your preference, can also substitute with honey or agave although it may change the flavor slightly)
1/2 cup chocolate chips. 1/2 cup walnuts  (can do all nuts or all chips, add more or less or not at all)
2 teaspoons pure vanilla (this is also optional for flavor)
Add all ingredients to a bowl and mix until well combined.  Put into a well greased loaf pan (preferably a large one – mine is 6″x 10″ and 3″ deep which is larger than the average pan).  Alternately you can use an 8×8 baking pan.  In this case your baking time will be shorter by about 10-15 minutes.
Bake at 350F for 50 minutes to 1 hour (mine took an hour in my large loaf pan).  In an 8×8 pan you might want to check it after 45 minutes with a toothpick.  If it comes out clean it's done.  You can also lightly press on the top and if it's done it should spring back.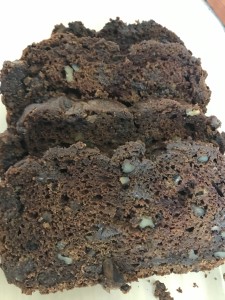 In case you are interested here is the calorie breakdown for you:  If you make the bread as directed above with 2/3 cup sugar and 1/2 cup choc chips and 1/2 cup walnuts, and you cut it into 12 equal pieces, each piece would be about 190 calories and that is a decent sized slice.  If you lower the sugar by half:  ie. add just 1/3 cup, and omit the choc chips and nuts it comes down to 121 calories a slice!  Add a dollop or real whipped cream brings your treat up by 50-100 calories depending on how much you add.
Enjoy!!!