Ingredients: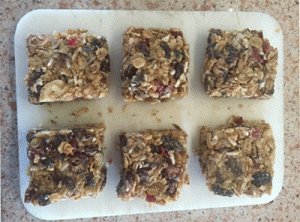 3 cups old fashioned oats
1 cup almond butter
1 cup honey
4 cups of any combination of the following:
Cranberries, walnuts, almonds, coconut, flax meal, chia seeds, sunflower seeds, pumpkin seeds, raisins
Mix all ingredients, put into a large baking pan, cut into squares and bake at 300F for 30 minutes. The bars come out soft and chewy. They can be frozen. One small bar is a great mid morning snack, or post workout snack.
A small square is about 200 calories.