One-on-one or Small Group Aqua Training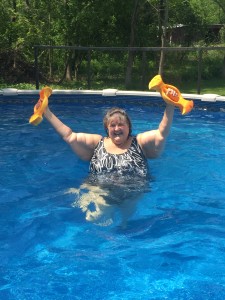 During June/July/August I'm able to offer training in my above ground swimming pool.  Often training in the water is preferable for anyone with injuries or serious joint issues, but is also a fun and challenging workout for anyone.
I'm AEA Certified for Aqua Training, and I use weights and noodles to increase intensity and add resistance to the workout.
Pricing is the same as for a regular Small Group, or a one-on-one. See below for pricing and availability:
Availability for Personal Training – see Calendar below: